243 results total, viewing 37 - 48
"Unfortunately, the majority of the Scott County Board of Supervisors remains committed to building the largest per capita juvenile detention center in the state, rather than investing in less costly, proven community-based diversion and other services ..."
more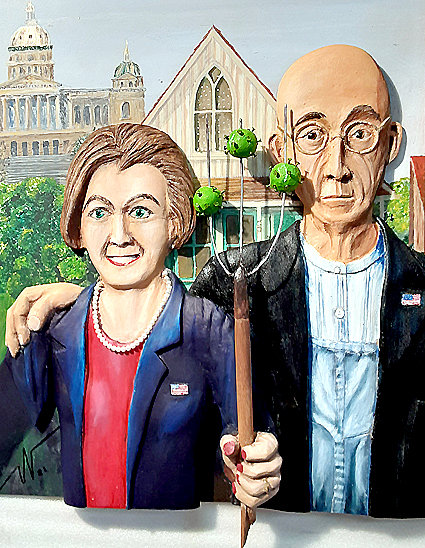 "This image is from Grant Wood's 'American Gothic.' It is a statement of praise for Governor Reynolds' employment of a relevant style of management ..."
more
"While we understand the challenges of these times, the members of the North Scott Clergy Group strongly advise that Wednesday nights continue to be safeguarded for the sake of our families and congregations ..."
more
"However, when Miller-Meeks shared a conspiracy theory about whether or not children could spread the COVID virus – they can - I started to seriously consider her credibility ..."
more
"A big thanks to our citizens as we work through personnel issues at city hall. This is not where we want to put our time and energy. It's a difficult situation, but we continue to work for YOU ..."
more
"With all the things going on in the world today, Jesus and the Bible are the only things I can have confidence in ..."
more
"An estimated 620,000 men lost their lives in the U.S. Civil War. In addition, 675,000 deaths occurred in the United States during the 1918 flu pandemic. Today, 664,000 deaths in the United States, plus an additional 1,800 deaths a day from COVID-19 and its Delta variant ..."
more
"The Republican politicians have made it clear that they want to do away with democracy and install an emperor over a president ..."
more
"The Eldridge Lions Club would like to thank everyone who purchased a Lucky 20 cash raffle ticket to support our club ..."
more
"On Sept. 11, 2001, we went to war with an ideology. Now, 20 years later, we are seemingly faced with an enemy from within and no one is held to account ..."
more
"A completely unbiased ruling, freed from your own personal experiences and religious convictions, may result in a ruling that will anger the pro-abortion and anti-abortion activists equally ..."
more
"Joe Biden and his administration have done nothing but brought embarrassment and disaster to our country. It is one major misstep after another ..."
more